I could not continue on with 2012 without looking back at our Christmas 2011. It was a whirlwind of activities, and this year, came and ended without a ton pf pictures. But that's okay. I have the important ones. We always take our family picture - mostly because we are all dolled up in our Christmas finery - right before we leave for my Aunt and Uncle's house on Christmas Eve. And no matter how hard I try and get things ready ahead of time, we are ALWAYS in a hurry to get the photo. ALWAYS. This year, our remote timer was acting cranky, so we had to do with the timer on the camera.
And this one is the best of the five photos we took - we are all kind of blurry, and the color is YUCK. And if you look really hard, you can see that Eric and I are both kind of annoyed.....Merry Christmas!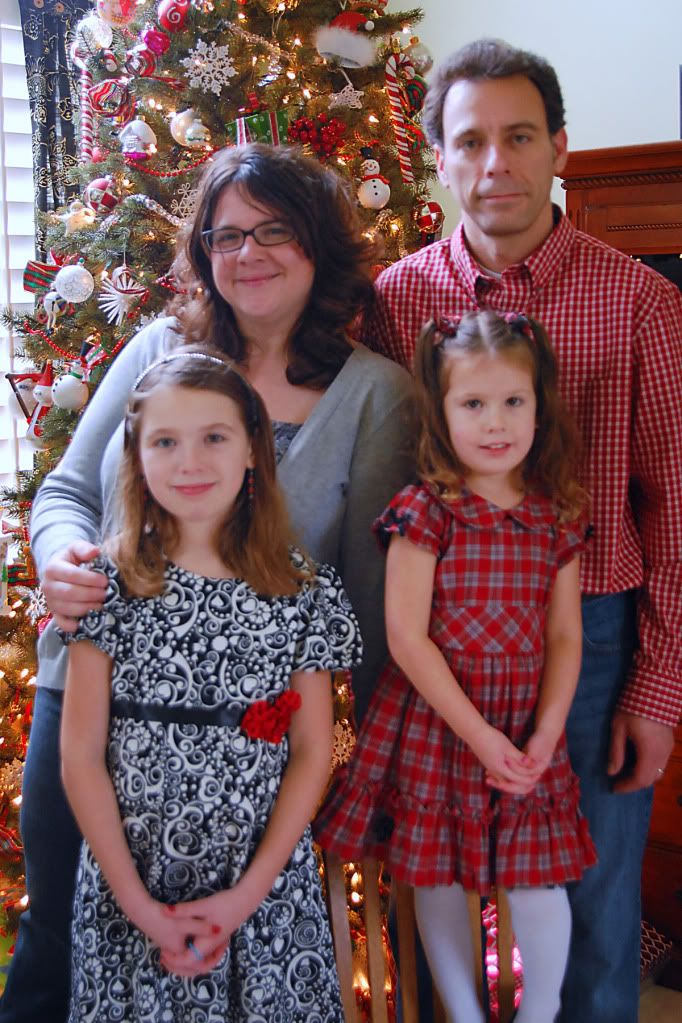 BUT, after all that, we got to my Aunt and Uncle's house and had a blast. The most entertaining present, for both kids and adults, this year were the Connectigons. Thank you Ryan, Julie, Aunt T, Uncle D and Kelly. The girls still play with them everyday.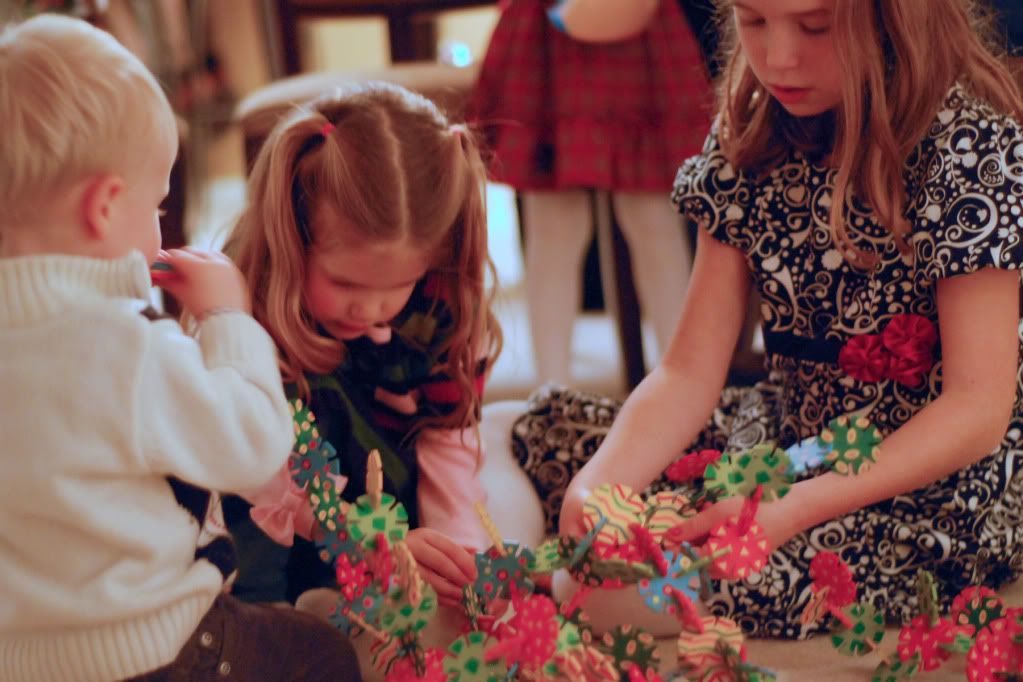 The most entertaining present for the adults - Paige's squirrel. Apparently, it was rabid.
(Matt, you KNOW I could not resist posting this)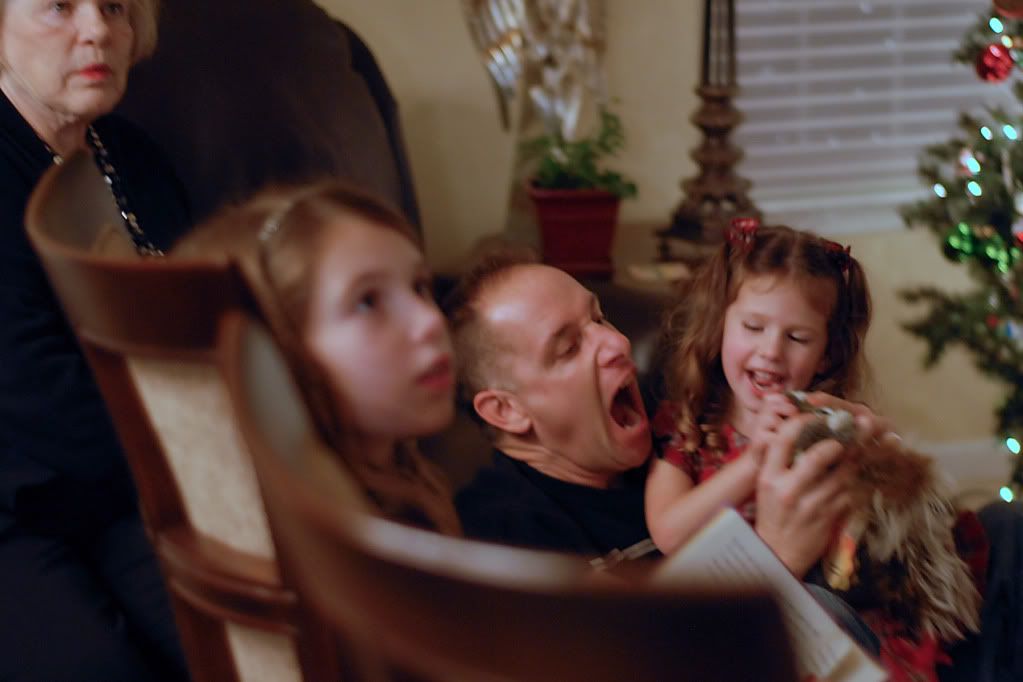 And then we jammied up the girlies - Grant was already sleeping at this point.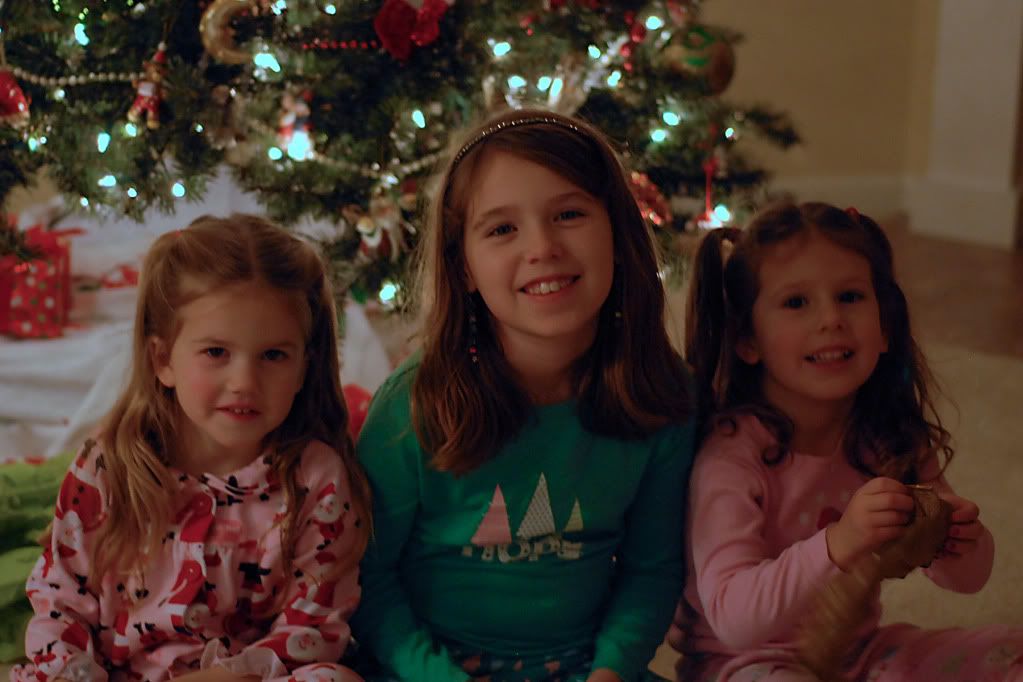 Goofed around a bit more.....
And we headed home. I think we pulled in the garage around 11:30pm. Paige was sound asleep. So it was up to Emily and I to sprinkle the reindeer food outside - in very high winds, we were done in seconds. And we set up the cookies for Santa. Emily was in bed close to midnight. It was at this point I realized I left my good camera at my Aunt and Uncle's house.....
So, at approximately 8am, Christmas morning, I snapped this picture. And at approximately 8:10am, it was all over. Emily was very surprised that Santa brought her a DSi XL. It wasn't on her list, but somehow Santa just KNEW she really wanted one. Paige was very excited about her American Girl doll Molly - but she was most excited about her Pinkalicious DS game. It was a very great morning, followed my much toy playing over the next week. Emily has expressed many times, her gratitude towards Santa this year, and has big plans on making him a huge Thank You card.
Hope your Christmas was Merry!