My Emily is now officially a third grader. And she is so EXCITED about it. Normal people dread the last day of summer vacation because they just don't want it to end. Emily, on the other hand, was wishing the whole day away yesterday because she could not wait to get to school. Maybe it's the excitement of a new teacher, or new school supplies, or seeing friends she hasn't seen in awhile. Whatever it is, she is so very ready.
We've had her first day outfit picked out for a couple of weeks. I don't know if it's influence from her little sister, or what, but my girl has gone very girly. There was no question that she was wearing this dress on the first day. The only difference in what we put out last night, to what she ended up wearing this morning, is the pants. It was fifty degrees this morning. Of course it was. Weather this year has not been great - and this morning was no exception.
But that didn't kill any of her excitement.
She even got a new backpack. Hopefully this one looks good for few years - unlike her light pink one that was dirty after a few weeks. Note to self - only dark colored backpacks are acceptable.
Paige was not a happy camper early this morning. When I woke her up she thought today was her first day of school as well. I pulled out her capri jeans and Hello Kitty shirt to put on to walk to the bus stop and she remarked that "this was not her first day outfit". When I told her that she doesn't start until tomorrow afternoon, she was not very happy. There were tears. But she got over it after a while when I told her that she gets to have her very own special first day - all by herself.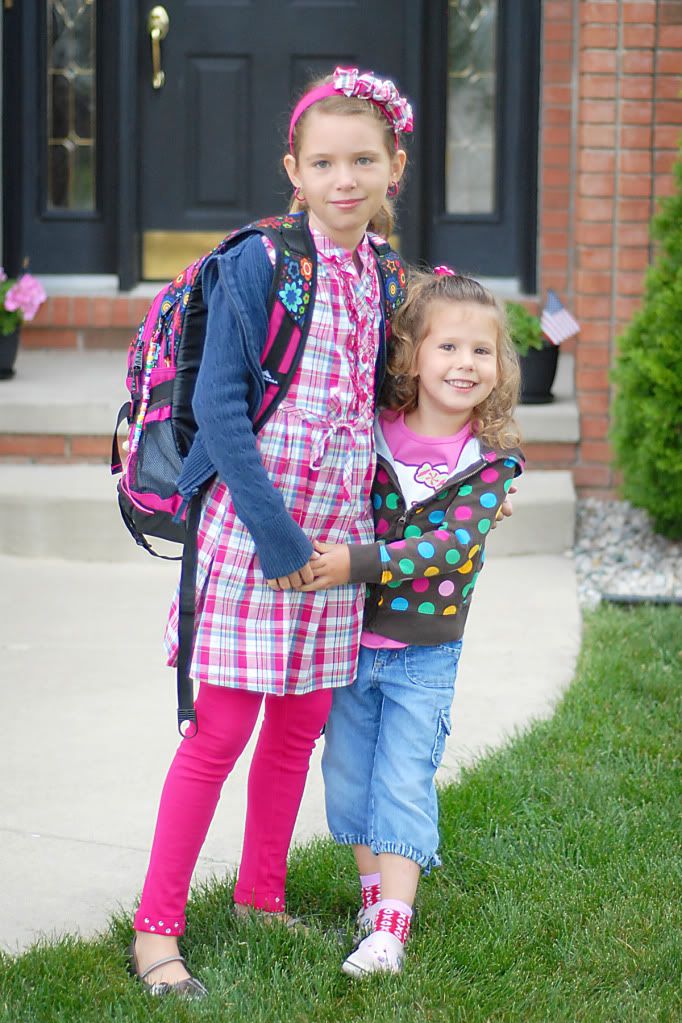 So, off she went. All grown up. Sort of.....